Giving Back to Our Community
At Collaborative Solutions, we are invested in building stronger communities, improving our environmental impact through corporate programs, and giving back to society.



As a primarily remote company, and with our work-from-home policy, we have been able to minimize fuel and energy consumption on a company-wide scale. For those who do use our offices, we encourage carpooling, have offices with charging stations for electric vehicles, and offer commuter benefits that allow employees to use pre-tax dollars for mass transit. In addition, recycling is a priority in offices and we use online services for payroll and tracking expenses, cutting down on unnecessary paper use.

Our employees, also known as Collabies, are encouraged to give back to charitable organizations and initiatives of their choosing through Volunteer Time Off. Our key charitable cause is Autism Speaks, an organization that contributes to research and raises awareness and legislative support for treatment for those with autism. We were the first National Walk Partner for Autism Speaks' annual Walk Now for Autism, a fundraising walk across 60 locations throughout North America. We have supported Autism Speaks for over ten years, and we are proud to say we have raised more than $300,000 for the cause. This sponsorship is just one aspect of our ongoing initiative to give back to our communities.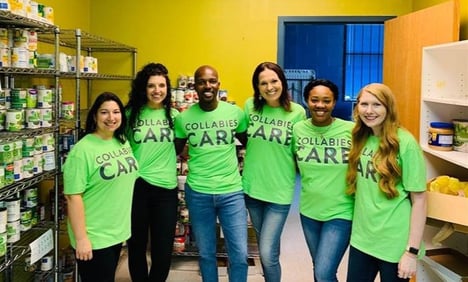 WE ARE COMMITTED TO:
Our Community

– We encourage our employees to give back to charities

and non-profit organizations

of their choosing

through "Volunteer Time Off"

.

Our Environment

– We

are a primarily remote company with a work-from-home

policy,

helping

to reduce our company's carbon footprint.

Our

Employees

–

We

exemplify our

company values of

Collaboration, Knowledge,

People,

Balance, and Integrity

,

and each individual plays a key role in giving back to our community.
COMMITMENT TO SUPPLIER DIVERSITY
At Collaborative Solutions, we believe inclusive procurement is an integral part of providing long-term value to the clients and communities we serve. We are eager to partner with businesses owned by minorities, women, LGBTQ+ community members, veterans, persons with disabilities, and SBA-defined small businesses. To learn more, check out our Supplier Diversity Policy.
If you think your business would be a great fit for Collaborative, please contact us.
WHAT OUR EMPLOYEES ARE SAYING
"After completing a gap year abroad as an exchange student in Brazil, I came back to the US inspired to help more students study abroad. I then began volunteering as a "Rotex" (returned exchange student) at Rotary Youth Exchange. As a Rotex, I facilitated weekend-long orientations for inbound foreign students and outbound American students to prepare them for studying abroad. This has opened other unexpected volunteer opportunities for me - such as being a Portuguese-language tutor for local refugee high school students."
Grace Montgomery
,
Consulting
-
"My family and I are very involved in the Alzheimer's Association for the Bay Area. This organization is near and dear to our hearts, as three of my grandparents were diagnosed with Alzheimer's/Dementia and two of them have passed. Each year we participate in the Walk to End Alzheimer's, fundraising for about a month and encouraging those who can to donate or participate. It feels great to support the organization's goal to end Alzheimer's and all other dementia!"
Lexie Nevels
,
Marketing
-