Featured Download
4 WAYS TO MAXIMIZE YOUR WORKDAY INVESTMENT
Deployment is just the first step towards transforming your organization's overall HCM and Finance approach. Let us help you take the next step.
Our eBook, "4 Ways to Maximize Your Workday Investment," explores different routes to getting the most value from your Workday investment.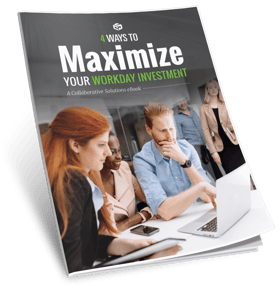 YOU'LL DISCOVER HOW TO:
Leverage data to make strategic decisions
Achieve true transformation with expert advice and guidance
Remove roadblocks with additional support
Execute key business events efficiently without increasing headcount
To get your complimentary copy, fill out the form to the right.
Fill Out This Form to Download